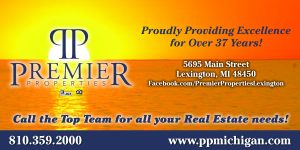 Pure Michigan Real Estate –
Welcome to the Undiscovered Coast!
Welcome to Michigan's Best Kept Secret – The Thumb
The western shores of Lake Huron, from Port Huron to the tip of the Thumb, is part of the "forgotten peninsula" known as the Thumb of Michigan's unique landscape, the Mitten.
With 87 miles of undiscovered coastline from Port Huron to Port Austin, our property values have remained affordable while supporting an historically-rich standard of living.
When  you live here, you live where children can grow up in a low-crime, high-work-ethic culture. Retirees come here to live permanently after many Summers of memory-making visits.
Buyers and Sellers Choose Premier Properties Because:
"When we were looking for our cottage, we knew we had the right agency to work with as soon as we walked into the office. The level of professionalism and integrity that we insisted on was evident, right from the beginning!" ~ Mr. & Mrs. S, Bloomfield Hills, MI
"I couldn't be happier with how well my closing went, even with all of the complicated documents! The people at Premier made sure I understood all of the legal-eeze!" ~ Ms V, Fort Gratiot, MI
"I had the best real estate agent working for me! And I know – my mom was a real estate agent." ~ Mr. J, Port Huron, MI
Our office works together, using the team concept to market your property using:
local publications
individual agents' circles-of-influence
a variety of regional & national multi-list services
Finding a home is so much more than making a selection from a catalog of listings. It is a process that is best implemented with the assistance of experts. Start with building a confidential relationship with a highly-qualified and competent agent from our office. We will:
do a study of comparable properties that were recently sold in your area
present to you a package of listing services to assist in marketing your property
only collect commission upon closing your deal